Human hair bob wig suits almost each woman, and today we have variants of bob hairstyle: short bob, longer bob (lob), straight bob, kinky straight bob, curly bob, wavy bob, bob with bangs or even bob with highlights.

Bob style has never left, and neither will it. Bob wig is a great choice for many women because of its minimal maintenance. If you want to see how you'd look like with a short hair without necessarily cutting off your locks, you can try short bob wigs. Due to their appearance, you can easily change the hairstyle easily. Bob wigs also allow you to achieve the look of short hair without having to visit your hairdresser.

With the article below you will learn the top 7 Best bob wigs for this summer season and how to choose a natural bob wig that flattering your face shape.
1.Straight Lace Front Bob Wig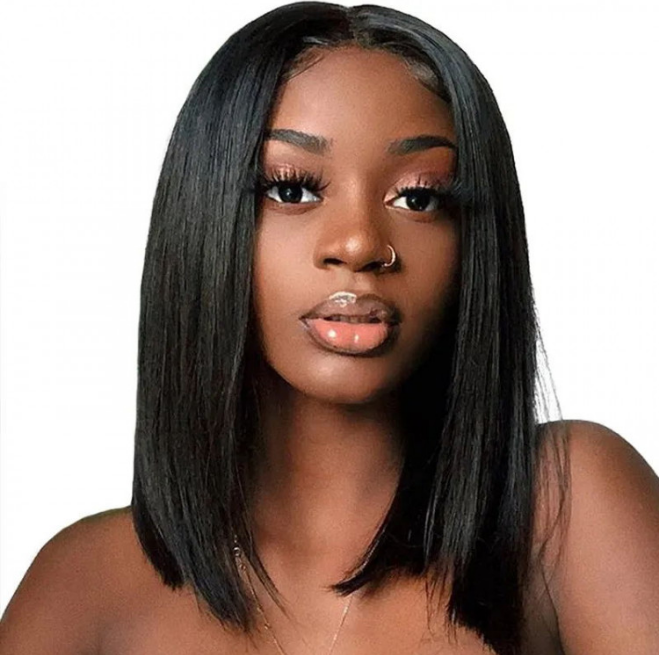 This bob wig is neat with elegant radian and very smooth perfect for round face. Some of its features include lace front, 100% hand-tied lace, lightweight, comfortable, etc. This bob wig is flexible for all kinds of hair parting, and it has correctly blended seamless hairline that imitates how hair grows out of the scalp, making it appear like real hair. It also allows for versatile hairstyles, making it hard for people to tell it's actually wig.
2. Straight human hair blonde bob wig
Blonde hair makes you look hot! So if you are planning to go to a party, and want to attract some attention, then this bob wig is the perfect choice.
After all, almost all women dream of having a beautiful blonde hair.
You don't have to bleach it anymore.
Blonde hair bob wig is resistant to heat and so you can use a flat iron to style it.
3.Colored bob wig
Choosing a new wig is exciting! Picking a flattering color is the best way to guarantee an overall gorgeous look and make you look different. You can find out your dreamy trendy wigs here, whether it is Ombre, Black, Blonde, Blue, Purple, Grey or Silver Hair Shades.
4.Straight hair highlight color short bob wig
100% hand-tied wig gives a natural look with various styling options and comfortable feel. The lace front extends ear to ear, and it also allows you to style the front layers. The lace is also hand-tied to give you a natural volume and allows you to change your hairstyle.
5.

Human short curly bob wigs
If you prefer short hair but with curls, the curly bob wig may be ideal for you. The grace that comes with short curly is worthy of the effort you must put when setting a weave in it. This hairstyle is chic and trendy. You can never go wrong in choosing short curly bob weave. They are easy to put on and even easier to manage it. This hairstyle will be your favorite for a long time as it goes along with all work and party themes.
6. Human hair short wig with bangs
The short bob wigs with bangs are ideal for women who are interested in a short and clean-cut hairstyle. Bob cut lace front wigs can be curly and flirty or sleek and straight. The short straight bob wig is designed with bangs. Short straight bob wig is perfect for various face shapes. This wig also looks and feels smooth, natural, and shiny. Since it is durable and heat resistant, you can use a curling rod or flat iron to style it to your preferences.
7. Human hair headband bob wig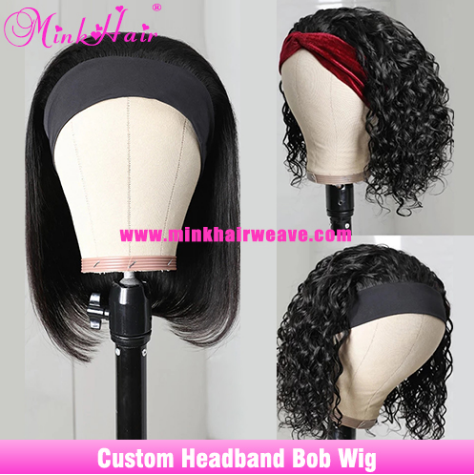 Headband bob wig is very easy to stall, so they are very friendly for beginner and lace girl.
How To Choose A Natural Bob Wig That Flattering Your Face Shape?
1.Heart-Shaped Face
Women with heart-shaped face should consider haircuts which frame their pretty cheekbones while creating the effect of fullness in the area where the chin appears narrow.
Fluttery bob which gives fullness to the lower part of your face and visually minimizes wide forehead is ideal for this face shape, as well as bangs combed to side.
Bob should not be shorter than chin-length.
2.Round Face
Women with round face often believe that they have to wear long hair in order to elongate their face.
However, a well-shaped bob hairstyle no longer than chin-length can suite round faces and give them a youthful look.
If you want to make your face look longer, avoid cutting your hair shorter than chin-length, and part it to the side.
This face shape is also flattered by asymmetrical hairstyles.
3.Oblong Face
Oblong face can certainly look oval with the right haircut.
Chin-length bob will create the illusion of width so that your face will visually seem shorter.
Bangs and mild waves will add volume to your hair and visually shorten the face, so women with longer facial features should wear playful, shorter and voluminous bob haircuts.
4.Oval Face
If your face is oval, you can easily wear almost all shapes and lengths of bob hairstyle, so you can make all you want.
Bob with sharp edges will emphasize the haircut itself, while natural waves will add romance and femininity to every occasion.
Bold ladies can opt for a big voluminous bob, or try a shorter bob with big locks for a playful look.
5.Square Face
Curled locks below the chin will soften the sharp jaw lines and soften the square face shape.
Bob haircuts right below the chin will direct attention towards the center of face, that is, it will emphasize your eyes.
Bold bob haircuts with uneven strands floating around your face will also soften the square face, and the parting should be moved from the middle to the side in order to break the square structure and strict impression.
Bangs can also visually circle the square face, but they shouldn't be too short or too wide – it's best if they are cut in the eye line.
If you want to learn more information and choose your wonderful mink hair bob wig, please click
here
.